Welcome to IJMSE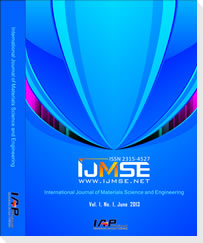 International Journal of Materials Science and Engineering
International Journal of Materials Science and Engineering (IJMSE) aims to provide a high profile, leading edge forum for academic researchers, industrial professionals, engineers, consultants, managers, educators and policy makers working in the field to contribute and disseminate innovative new work on Materials Science and Engineering. All papers will be blind reviewed and accepted papers will be published quarterly by the IAPublishing which is available online (open access) and in printed version. International Journal of Materials Science and Engineering aims to publish original, previously unpublished, research, survey and tutorial papers, plus case studies and short research notes, on both applied and theoretical aspects which covers, but not limited to, the following scope:
General Information
Editor-in-Chief:
Prof. Emeritus Dato' Dr. Muhammad Yahaya
Abstracting/ Indexing:
Ulrich's Periodicals Directory, Google Scholar, Crossref, Engineering & Technology Digital Library and Electronic Journals Digital Library
E-mail:
questions or comments to IJMSE Editorial Office.